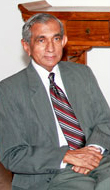 Deshabandhu Ajit Jayaratne, considered to be a legendary figure in the capital markets industry, is a former Chairman of the Colombo Stock Exchange, the Finance Commission and the Ceylon Chamber of Commerce.
He is the Chairman of Kia Motors and a director of Colombo Fort Land and Building PLC, Associated Electrical Corporation Ltd, Kotagala Plantations PLC, Overseas Reality PLC and ACL Cables PLC. He is a former director of the Ceylon Petroleum Corporation, DFCC Bank, Delmege Forsyth Co., Singer Sri Lanka Ltd, People's Bank and a former Chairman of Forbes and Walkers Ltd., Forbes and Walker Stockbrokers (Pvt) Ltd. (once the largest stock brokering company in Sri Lanka) and Apollo Hospitals.
Mr. Jayaratne is a graduate in Economics from the University of Southampton and a Chartered Accountant by profession. A former High Commissioner to Singapore, Mr. Jayaratne is also a fellow of the Institute of Chartered Accountants, UK and Sri Lanka.
Dian Gomes is the former Chairman of Hela Clothing and a former Group Director of MAS Holdings.
A Fellow of the Chartered Institute of Management Accountants (UK), the Association of Chartered Certified Accountants (UK), and Certified Practicing Accountants (Australia), Dian received his executive education from Wharton Business School, Ashridge Business School and Harvard Business School.
Dian was President of the Chartered Institute of Management Accountants (UK) – Sri Lanka Division in 2001/2002 and is the Vice President of the National Olympic Committee of Sri Lanka and Vice Chairman of the Asian Boxing Confederation (ASBC) Athletes & Youth Commission. Dian is also a Trustee of the Colours of Courage Trust and serves on the Boards of numerous private and public institutions. He was awarded "Business Leader of the Year" at the CIMA-Janashakthi Pinnacle Awards in 2003. In 2009, Dian was awarded the "Brand Leadership Award" under the Individual Category by the World Brand Congress.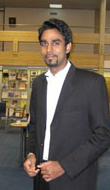 Having obtained a BSc degree in Management from the University of Warwick, Arosha went onto complete his M.Sc. in Management Research at the University of Oxford. Arosha also holds an International Certificate in Wealth Management and is an Associate Member of the Chartered Institute for Securities and Investment (UK). He also completed his PhD at the University of Cambridge.
Arosha discovered his passion for the stock market while in university and has assisted in managing the family stake for almost a decade. He was also involved in family business interests which are in property and plantation sectors. Arosha is the grandson of Civil and Structural Engineer U.N.Gunasekera (a former President of the Institution of Engineers, Sri Lanka). A guest lecturer at the MAS Holdings,Deutsche Bank and Dialog Internship program, Arosha has represented Sri Lanka at the Future World Leaders Summit in Washington DC.
Arosha's family has been involved in the banking sector since the times of his Great-grandfather Sir Ernest de Silva, first Chairman of the Bank of Ceylon: Sri Lanka's largest commercial bank.
Dr. Arosha Gunasekera is also a Director of Eminent Developments (Private) Limited: a property development company in Sri Lanka.