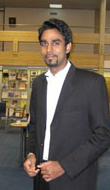 Having obtained a BSc degree in Management from the University of Warwick, Arosha went onto complete his M.Sc. in Management Research at the University of Oxford. Arosha also holds an International Certificate in Wealth Management and is an Associate Member of the Chartered Institute for Securities and Investment (UK). He also completed his PhD at the University of Cambridge.
Arosha discovered his passion for the stock market while in university and has assisted in managing the family stake for almost a decade. He was also involved in family business interests which are in property and plantation sectors. Arosha is the grandson of Civil and Structural Engineer U.N.Gunasekera (a former President of the Institution of Engineers, Sri Lanka). A guest lecturer at the MAS Holdings, Deutsche Bank and Dialog Internship program, Arosha has represented Sri Lanka at the Future World Leaders Summit in Washington DC.
Arosha's family has been involved in the banking sector since the times of his Great-grandfather Sir Ernest de Silva, first Chairman of the Bank of Ceylon: Sri Lanka's largest commercial bank.