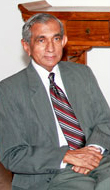 Deshabandhu Ajit Jayaratne, considered to be a legendary figure in the capital markets industry, is a former Chairman of the Colombo Stock Exchange, the Finance Commission and the Ceylon Chamber of Commerce.
He is the Chairman of Kia Motors and a director of Colombo Fort Land and Building PLC, Associated Electrical Corporation Ltd, Kotagala Plantations PLC, Overseas Reality PLC and ACL Cables PLC. He is a former director of the Ceylon Petroleum Corporation, DFCC Bank, Delmege Forsyth Co., Singer Sri Lanka Ltd, People's Bank and a former Chairman of Forbes and Walkers Ltd., Forbes and Walker Stockbrokers (Pvt) Ltd. (once the largest stock brokering company in Sri Lanka) and Apollo Hospitals.
Mr. Jayaratne is a graduate in Economics from the University of Southampton and a Chartered Accountant by profession. A former High Commissioner to Singapore, Mr. Jayaratne is also a fellow of the Institute of Chartered Accountants, UK and Sri Lanka.